Pharmaceutical Technology:
Chemical Synthesis
Trademark:
As per customer
Transport Package:
12 PCS/Box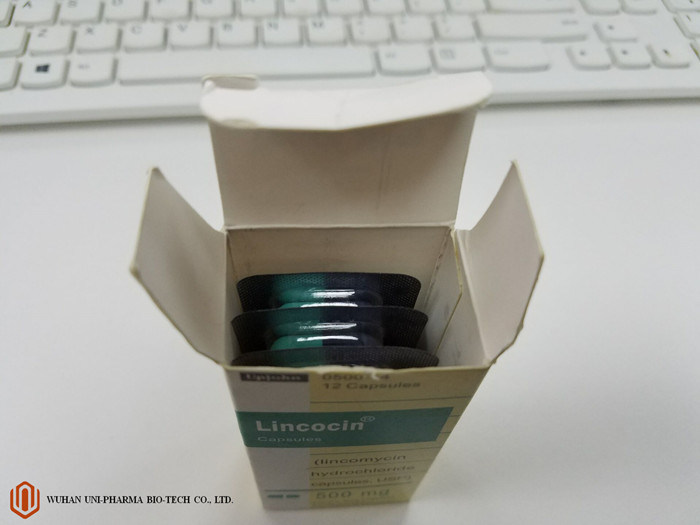 Good Quality GMP Certification Lincomycin Hydrochloride Capsules USP Bacteriostatic Antimicrobial
 
Each capsule contains:
Lincomycin hydrochloride monohydrate equivalent to Lincomycin 500mg.
 
Caution: To be dispensed only by or on the prescription of a physician.
 
         
 Each capsule contains:
 
| | | | |
| --- | --- | --- | --- |
| Substance | Quantity | Function | Reference |
| Lincomycin | 500mg | Active ingredients | B.P.2000 |
| Starch | 35mg | Excipients | Â  |
| hydroxypropyl cellulose | 25mg | Excipients | Â  |
| magnesium stearate | 20mg | Excipients | Â  |
| 8%Dextrin | q.s | Excipients | Â  |
| Sodium Starch | 10mg | Excipients | Â  |
 
 
Recommended clinical use.
 
Lincomycin has been shown to have neuromuscular blocking properties that may enhance the action of other neuromuscular blocking agents. Therefore it should be used with caution in patients receiving such agents.
 
Lincomycin should be administered with caution in atopic individuals.
Patients with very severe renal disease and/or very severe hepatic disease accompanied by severe metabolic aberrations should be dosed with caution, and serum lincomycin levels monitored during high-dose therapy.
 
1. Serious infections: 30mg/kg/day divided into 3 or 4 equal doses
 
2. More severe infections: 60mg/kg/day divided into 3 or 4 equal doses.
 
When therapy with lincomycin is required in individuals with severe impairment of renal function, an appropriate dose is 25 to 30% of that recommended for patients with normally functioning kidneys. In cases of beta-hemofytic streptococcal infections, treatment should be continued for at least 10 days.
 
For optimal absorption it is recommended that nothing be given by mouth for a period of one to two hours before and after oral administration of lincomycin.
 
Note:
Severe cardiopulmonary reactions have occurred when this drug has been given at greater than the recommended concentration and rate.
 
Indications:
 
 This product is suitable for sensitive Staphylococcus, Streptococcus, Streptococcus pneumoniae and anaerobic bacteria caused by respiratory infections.
 
Skin and soft tissue infection in female genital tract infection and pelvic infection and intra-abdominal infection, the latter two kinds of diseases according to the FDA alone or with other combined application of antibiotics in addition to.
 
Indications in patients with application of penicillin, such as patients with penicillin allergy to penicillin or not.
 
This product can be used as alternative medicine.
 
Lincomycin has found to be effective in the treatment of infections caused by susceptible trains of gram-positive aerobes such as streptococci, pneumococci and staphyiocci. And also in the following infections:
1. Upper respiratory infections including tonsillitis, pharyngitis, otitismedia, sinusitis, scarlet fever and as adjuvant therapy of diphtheria.
2. Lower respiratory infections including acute bronchitis and pneumonia.
3. Skin & soft tissue infections including celiulitis, furuncles, abscesses, impetigo, acne and wound infections.
4. Bone & joint infections including osteomyelitis and septic arthritis.
5. Senpticemia and endocarditis and bacillary dysentery.
 
CONTRAINDICATIONS:
Contraindicated in patients haveing known sensitivity towards lincomycin or clindamycin. Also contraindicated in lactating mothers.
 
LINCOMYCIN is a incosamices antibiotic with the primarily bacteriostatic action against gram-postive aerobes and a wide range of anaerobic bacteria , binds to 50s subunit of the bacterial ribosome similarly to macrolide and inhibites the early stages of protein synthesis. 
 
The action of LINCOMYCINE is predominantly bacteriostatic although high concentration may be slowly bactericidal against sensitivie strains.
 
Magnesium Dihydrogen Phosphate,Phosphoric Acid 85 Food Grade
Co., Ltd. , http://www.chfoodadditives.com