Advantage 3:
Touch Screen
Factory price portable painless shr ipl rf hair removal machine 
MX-E12Â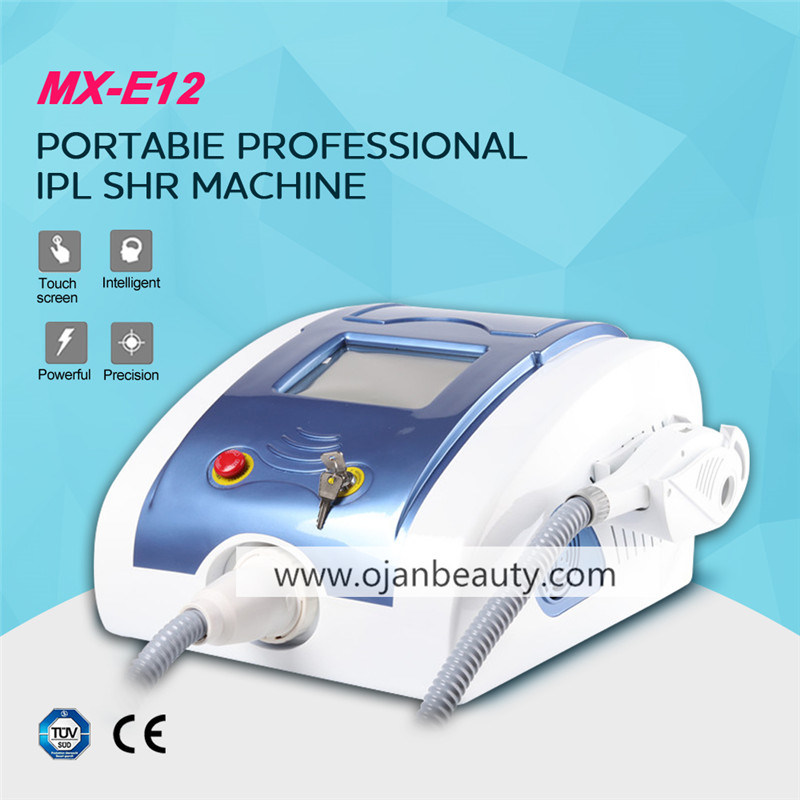 Technical Principles
E-light technology:
Aimed at entire dermis and connective tissue, IPL and Bipolar RF
technology stimulates and makes the collagen in different depths rearrange and grow so as
to achieve the therapeutic effect, while bipolar radio frequency simultaneously releases
energy, making diseased tissues in epidermis and dermis produce light pyrolysis through
skin's selective absorption of light energy. Because of energy it needs far lower than
traditional IPL, it makes the pigmented and vascular diseased tissues in epidermis and dermis
absorb more energy without skin damage and removes these diseased tissues, by which
achieves therapeutic effect.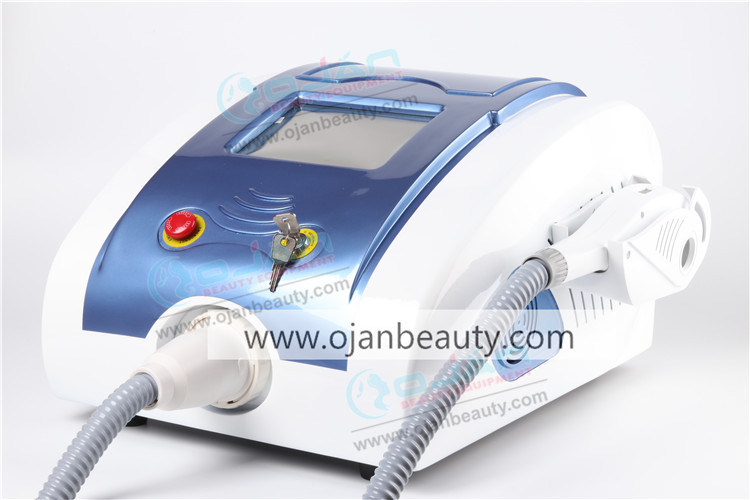 SHR technology:
The effective depth penetration of 640nm-1200nm professional
wavelength of hair removal can reach to papilla, and continuously shines to ensure the
target tissues produce sufficient heat that makes hair follicles and stem cells around them
lose activity until hair follicles atrophy and hairs stop growing; latest single pulse technique
and sapphire contacting operation head making operation and cooling work simultaneously,
not only have a good long-term effect in hair removal, but also protect normal skin tissues
from harm and make customers feel more comfortable during the operation.
SCREEN: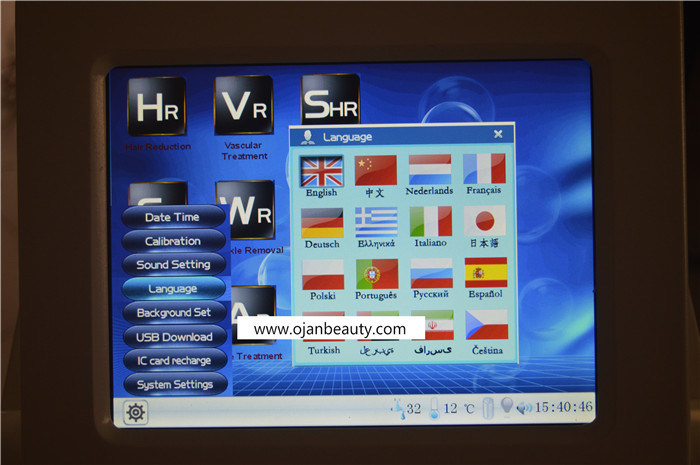 HANDPIECE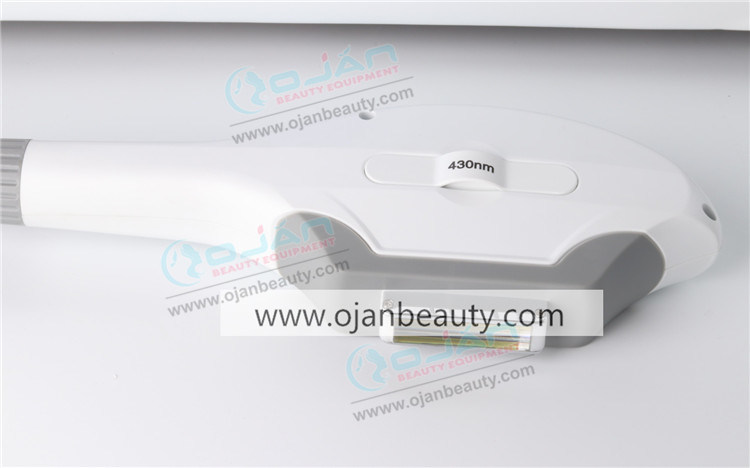 Range of application
Ø Hair removal: permanent hair removal, hairs through whole body(hairs in growing
period, including tiny hairs with light color
Ø Freckle removing: removing freckles, chloasma, sunburn, age spots, acne marks and
facial blemishes
Ø Skin Rejuvenation: improving large pores, rough skin, tiny wrinkles, and restoring skin
elasticity.
Ø Telangiectasia treatment: redness, facial flush.
Ø Improving dull complexion to whiten and uniform skin
Ø Specifically eliminating red, brown, suntan and other colored tattoos.
Ø Effectively wiping out all kinds of eyebrow, embroider eyebrow, tattoos, eyeliner and lip
liner.
Ø Treating pigmented skin lesions and mixed hyperpigmentation such as age spots,
birthmarks, ota nevus, moles and so on.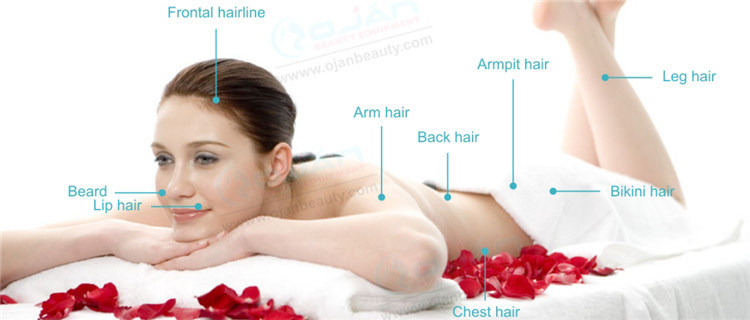 Parameter:Â 
| | |
| --- | --- |
| Screen :   | 8.4" touch screen               |
| Output power : | 1000w  |
| RF frequency( Elight type )Â Â Â  | 1Mhz , |
| RF (energy Elight type ): | 1-50J |
| Energy :Â Â Â Â Â Â Â Â Â Â Â Â Â Â  | Elight :10-60J ,SHR :1-26J |
| Pulse  number :     |  Elight : 1-15, SHR : 1-15 ,     |
| Pulse frequency :   |  Elight: 0.1-5s,   SHR 1-10s ,    |
| Shot number :     | Elight : controlable , SHR 3-10/s  |
| Wavelength :   |  elight : 430/530/640-1200  ,SHR :690-950 mm ,         |
| Spot size : | 15*50mm &12*33cm&640-1200nm  SHR: 15*50mm  , |
| Handpiece lifetime : | 200,000 shots times for each handle or 400,000 shots times for each handle  |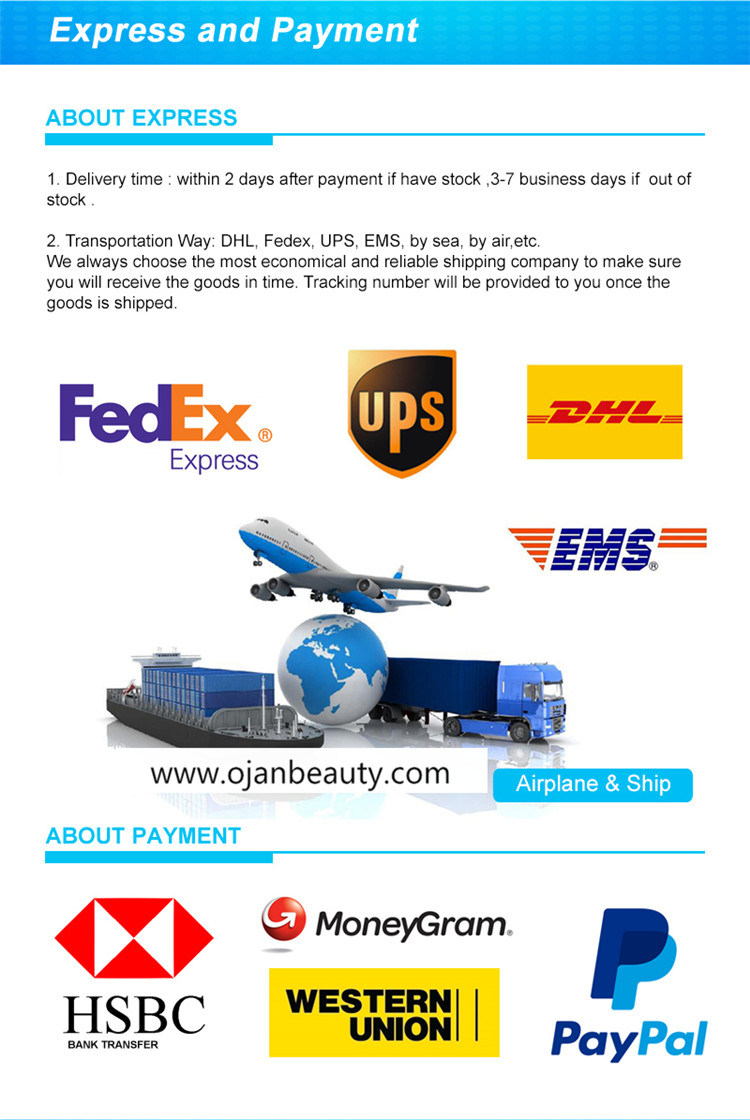 If you are interested in our product , please feel free to contact us 
Contact Information 
Iris Chu




 




Website:Â 

www.ojanbeauty.com




 




Tel:+86 20 36775696Â 




 




Mobile: +86 13798180731Â 




 


 

 
 

 
 

 
 
 
 
Black garlic contains 18 kinds of amino acids, garlic-ene, peptides, polyphenols, active SOD, biological enzymes, glycosides, vitamins, lipids, trace elements, carbohydrates, green sulfur compounds, easily absorbed by the human body composition. The structure ratio is reasonable, and without any side effects.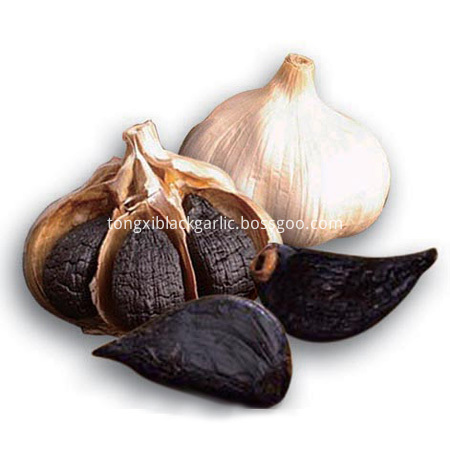 ( Aged ) Black Garlic
Aged Black Garlic,Organic Black Garlic,Fermented Black Garlic,Peeled Black Garlic
Zhucheng Tongxi Commercial And Trade Co.,Ltd. , http://www.blackgarlicgroup.com